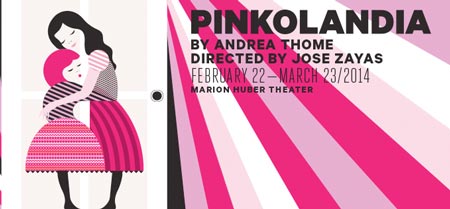 (RED BANK, NJ) -- Two River Theater Company, under the leadership of Artistic Director John Dias and Managing Director Michael Hurst, continues its 2013/2014 Season with Pinkolandia, a new play written by Andrea Thome and directed by Jose Zayas. Performances will begin in Two River's Marion Huber Theater, 21 Bridge Avenue, on Saturday, February 22 and continue through Sunday, March 23. The opening night performance is Friday, February 28 at 8pm. Tickets are available from 732.345.1400 or tworivertheater.org .
Pinkolandia was introduced to Red Bank audiences as a reading in Two River's 2012 Crossing Borders festival of new Latino plays, and is produced as part of Lark Play Development Center's "Launching New Plays into the Repertoire Initiative" supported by The Andrew W. Mellon Foundation. The initiative partners also include 16th Street Theater in Chicago, INTAR Theatre in New York, and Salvage Vanguard Theater in Austin. Andrea Thome and Jose Zayas have further developed the play since its first production (at INTAR); Two River's production will run as a 90-minute play without an intermission.
Inspired by playwright Andrea Thome's own family history, Pinkolandia tells the story of two young sisters and their parents (exiled from Chile in the aftermath of the 1973 coup) who have settled in the strange new land of Reagan-era Wisconsin. There, the girls create imaginary worlds to make sense of their family's past, as their parents try to find their own place in the American Dreamknowing that sometimes, when you lose your country, you have to make your own.
"Through the story of these young girls, Beny and Gaby," says Artistic Director John Dias, "audiences are able to experience something that all of usor perhaps our families, or our forefathershave had to do: reconcile our lives in a new land with a sense of home' as a very different place in the past. This is part of the history of who we are as Americans. Andrea Thome has written a very personal, specific play about the story of one Latino family in America, but one that also captures the universal experience of growing up and staking claim to a new story."
The cast of Pinkolandia includes Varn Ayala (Dad/Kid 3), David Crommett (Tio Ignacio/Polar Bear/Mr. Pittman/Old Man), Maria Helan (Beny), Annie Henk (Mom/Kid 2), Andrea Morales (Gaby), and Gabriel Sloyer (Pepe/Kid 1/Nazi).
The creative team includes scenic designer Raul Abrego; costume designer sta Bennie Hostetter; lighting designer Jeanette Oi-Suk Yew; sound designer Jane Shaw; and projection designers Alex Koch, Kate Freer & Dave Tennent. The casting is by Zoe E. Rotter and the stage manager is Alison Hassman.

Ticket Information
Ticket prices range from $45 to $65, with discounts available for groups, seniors, and U.S. military personnel, their families, and veterans. Tickets for patrons under 30 are $24 and include the best available seats at every performance. Tickets are available from tworivertheater.org or 732.345.1400.
---
Inside Two River -- Inside Two River is a series of events specially curated for each Two River Theater production. For more information or to reserve seats, patrons should visit tworivertheater.org or call 732.345.1400.
Chilean Wine and Tapas Tasting, Sunday, February 23 at 4:45pm in the Victoria J. Mastrobuono Library (following the 3pm performance)
Wines from Chile will be selected and served by The Wine Cellar of Red Bank alongside paired tapas from The Cheese Cave in this celebration of Chilean culture, food, and music. Tickets are $25 per person (only 30 tickets are available for this special event).

Panel Discussion: Launching a New Play into the Repertoire of Great American Theater, Sunday, March 2 at 4:45pm in the Victoria J. Mastrobuono Library (following the 3pm performance)

Pinkolandia's development and how it has resonated in different communities across the countrywill be discussed by playwright Andrea Thome; John Eisner and Lisa Rothe from the Lark Play Development Center; Two River's John Dias; and Artistic Directors Ann Filmer of Chicago's 16th Street Theater, Jenny Larson of Austin's Salvage Vanguard, and Lou Moreno of New York's INTAR Theatre.

Pinkolandia Poetry Slam, Monday, March 3 at 7:00pm in the Victoria J. Mastrobuono Library
Two River Theater is hosting Loser Slam open-mic nights throughout the season. In connection with Pinkolandia, the public is invited to attend to perform their own poems in English or Spanish, or listen to poems performed by others.

Book Club: Maya's Notebook by Isabelle Allende, Sunday, March 9 at 5:00pm in the Victoria Mastrobuono Library (following the 3pm performance)

Literary Manager Anika Chapin will lead a discussion of Maya's Notebook a coming-of-age story by Chilean author Isabel Allende. This suspenseful novel (recommended for our Book Club by playwright Andrea Thome) tells the story of Maya, a troubled 19-year old whose grandmother helps her escape to a remote Chilean island. There, she learns about all aspects of her historypersonal, familial, and culturalusing art and imagination as an outlet for her complex feelings.

Guest Speakers
Throughout the run of Pinkolandia, Two River's Artistic staff will be joined by Guest Speakers from our community, who will share their own insights into the play and take questions from the audience. Visit www.tworivertheater.org for speakers and dates.

---
Audience Extras
Before Play and Lobby Display
Audiences will learn about the political history of Chile in the 1970s and '80s in Two River's Before Play lecture series, which takes place in the lobby 45 minutes prior to every performance. A series of lobby display panels will also provide additional background and context.

Accessibility
Working with Google, Two River has created and launched a virtual tour of its facility, which lives on Google Maps and tworivertheater.org . This virtual tour provides an additional level of support and benefit for patrons who use wheelchairs or require other assistance by allowing them to virtually come through the theater's front doors and view the space in detail in advance of their visit.

An audio-described performance is scheduled for Wednesday, March 19 at 1pm; tickets to this performance are offered at the discounted rate of $25 for patrons needing audio description. An open-captioned performance is scheduled for Saturday, March 22 at 3pm. Tickets to this performance are offered at the discounted rate of $25 for patrons needing open captions. To reserve wheelchair-accessible seating or tickets for a performance listed above, patrons should call 732.345.1400.