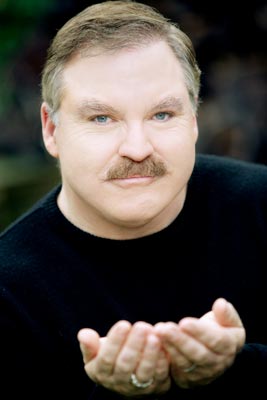 (Newton, NJ) -- James Van Praagh, New York TImes Best-Selling Author, Talk Show Host, Television Producer, and World Renowned Spiritual Medium, will appear at the Newton Theatre on Friday, April 11th, 2014.
Internationally renowned #1 New York Times Best Selling Author of Talking to Heaven, Reaching to Heaven, Healing Grief, Heaven and Earth, and others; James is considered a pioneer in the mediumship movement throughout the world, and has been recognized as one of the most accurate spiritual mediums working today. His messages have brought solace, peace and spiritual insights, changing millions view of both life and death. He has received many awards for dedicating himself to changing the consciousness of the planet. A guest on mostly every national radio and television show including Oprah, Larry King Live, Dr. Phil, A & E's Biography, Nightline, Unsolved Mysteries, The View, The Today Show, and many more.
He has also been a very successful producer including the most viewed mini-series in network history, Living with the Dead, starring Ted Danson portraying James in a biography of his life. He also produced The Dead Will Tell, starring Eva Longoria. Most recently, he developed, co-created and produced one of the most successful series seen on a Friday night, Ghost Whisperer starring Jennifer Love Hewitt. It is currently seen in over four hundred markets around the world and has launched a worldwide interest in the phenomenon of ghost-hunting.
During his career, his reputation and profession have seen him work with International Heads of State, religious world leaders and entertainment celebrities such as Cher, Goldie Hawn, Shirley Maclaine, Ellen DeGeneres, Joan Rivers, Katie Couric, Loretta Lynn, Chelsea Handler, Jennifer Love Hewitt, Wesley Snipes, and many more. He is famous for bringing through evidential details from many famous deceased personalities like Marilyn Monroe, Rock Hudson, Frank Sinatra, Roy Orbison, Lucille Ball, Andrew Carnegie, Liberace, Princess Diana, Michael Jackson, Johnny Carson, Ghandi, Edgar Cayce, Benjamin Franklin and even Abraham Lincoln. This proves the standard and the versatility of his abilities.
Van Praagh was born in Bayside, New York. As a child, he remembers having a tremendous fascination with cemeteries and death. Wanting to serve God, entered a pre-seminary at the age of fourteen. One day as he was in prayer, he heard a spirit voice whisper very clearly in his ear: God is much bigger than these four walls; you must leave and find God outside in the world." It was at that moment, that his interest in organized religion ended, and his journey of spirituality began.
Graduating from public high school, he continued to pursue his studies and later graduated from San Francisco State University with a degree in Broadcasting and Communications. After graduation, he moved to Los Angeles where he became involved in metaphysics and psychic phenomena.

At age 24, Van Praagh was invited to attend a session with a medium. At the time he had no idea of exactly what a medium was; he was understandably dubious when the medium informed him, that he would become the voice of the Spirit World within two years. "My first reaction was, I have enough trouble dealing with the living; why do I want to talk to the dead?"
After the session with the medium Van Praagh began a regular regiment of daily meditation; the more he meditated the more sensitive he became and eventually was able to "see" colors around people and know instinctively their emotional and physical state of mind. As Van Praagh's sensitivity increased, he began doing psychic readings for friends. During these readings, he began receiving detailed messages from the beyond. Though at first this seemed bizarre, the more he learned, the more he could not deny the fact that the medium's prediction given two years earlier had indeed come true. He now was able to clearly pierce the veil separating the two worlds of life. Today, Van Praagh is recognized as one of the most notable and influential Mediums in the world.
Van Praagh spends his days traveling the world, teaching mediumship development classes, hosting cruises to spiritual destinations, and conducting sold-out seminars. He takes pride in having built a web site that encourages spiritual learning, grief support and friendships through its many online communities, resources and activities. "The books, live stream events, seminars, classes, web site, social media outlets and television projects are ways to share my abilities and the message that there is no such thing as death, it is merely an illusion, and everyone survives death!
Tickets for James Van Praagh are $69.00 for Premium seating, $59.00 for the Orchestra and $49.00 for the Balcony. Tickets for this performance will go on sale on Friday, November 8th at 11:00 am. Purchase tickets by visiting www.thenewtontheatre.com or contact the Box Office at 973-383-3700.

The historic Newton Theatre, located at 234 Spring Street in Newton, NJ, was founded in 1924. Revitalized and fully renovated, Sussex County's premier entertainment venue reopened in 2011 as a 605 seat capacity live performing arts center. With it's rich history and diverse programming The Newton Theatre is essential to the buoyancy of New Jersey's Skylands region. More information about The Newton Theatre may be found by calling 973-383-3700 or by visiting its website at www.TheNewtonTheatre.com .