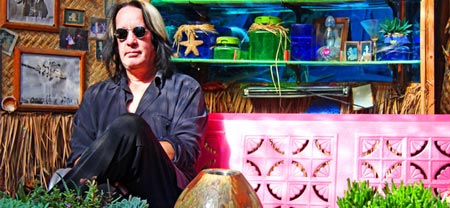 (Newton, NJ) -- Todd Rundgren, who performed to a sold out house at the grand opening of the newly renovated Newton Theatre in September 2011, will make a triumphant return on Saturday, March 22nd at 8:00 pm.
Todd Rundgren is a prolific songwriter, instrumentalist and rock n' roll maverick. He is a pioneer in electronic music, prog rock and music video. His 1972 album Something/Anything was certified gold. His best known songs are classic rock and pop gems including I Saw the Light, Hello It's Me, Can We Still Be Friends, and the novelty Bang on the Drum All Day.
He has released many albums as a solo artist and with his band Utopia. During the 1970s and 80s Rundgren produced or engineered acclaimed albums for other acts as diverse as Badfinger, The Band, Grand Funk Railroad, Meat Loaf, the New York Dolls and XTC.
Given such an extensive catalog, it's not surprising that there's a vast variety of styles within Rundgren's music. Therefore, more often than not, the singles from each record do not offer an accurate indication of what the remainder of the album sounds like. Such an approach has great appeal for his ferociously dedicated fans.
Tickets for an Unpredictable Evening with Todd Rundgren are $64.00 for Premium seating, $54.00 for the Orchestra and $44.00 for the Balcony. Purchase tickets by visiting www.thenewtontheatre.com or contact the Box Office at 973-383-3700.
The historic Newton Theatre, located at 234 Spring Street in Newton, NJ, was founded in 1924. Revitalized and fully renovated, Sussex County's premier entertainment venue reopened in 2011 as a 605 seat capacity live performing arts center. With it's rich history and diverse programming The Newton Theatre is essential to the buoyancy of New Jersey's Skylands region. More information about The Newton Theatre may be found by calling 973-383-3700 or by visiting its website at www.TheNewtonTheatre.com .