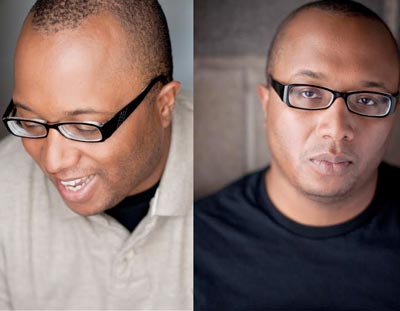 (NEWARK AND RED BANK, NJ) -- New Jersey Performing Arts Center (President and CEO, John Schreiber) and Two River Theater (Artistic Director John Dias and Managing Director Michael Hurst) announced today a new collaboration that will bring a concert version of Meredith Willson's The Music Man, performed by an African-American cast, to audiences in both Newark and Red Bank, New Jersey.
The Music Man will be directed by NAACP and Obie Award-winning director Robert O'Hara (Danai Guiria and Nikkole Salter's In the Continuum and Danai Guiria's Eclipsed; Tarell Alvin McCraney's The Brother/Sister Plays (Part 2) at McCarter Theatre and The Public Theater) with music direction by Kenny Seymour (Broadway's Tony Award-winning Best Musical Memphis).
Willson's The Music Man won the 1957 Tony Award for Best Musical and the first Grammy Award for Best Original Cast Album. It tells the story of con man Harold Hill, who falls for piano teacher Marian Paroo ("Marian the Librarian") while introducing the conservative townsfolk of the community of River City, Iowa, to passion and music during the summer of 1912.
In O'Hara's staging, River City will be an African-American town, based on historical accounts of black communities established by former slaves across the United States, including in Iowa, after the Civil War. There will be six performances at Two River Theater in Red Bank from March 13-16 and four performances at NJPAC in Newark from March 21-23.
The musical will be performed by an ensemble of 12 actors. Seymour will lead a six-piece on-stage band. Casting will be announced at a later date.
"NJPAC is thrilled to launch a collaboration with Two River Theater with one of the most beloved musicals of all time, especially through this fresh new take by Robert O'Hara," says John Schreiber, President and CEO of the New Jersey Performing Arts Center, who initiated the partnership between the two organizations. "Both NJPAC and Two River are dedicated to engaging our respective communities through diverse programming, and I can't wait to hear Meredith Willson's great score performed by a fantastic cast of African-American theater talents."
John Dias, Artistic Director of Two River Theater, says "As a playwrightand go-to director of others' original workRobert O'Hara brings to life the too-often-untold stories of African Americans in ways that are dynamic and highly theatrical. He's also got a great love of American theater traditionsparticularly musicalsthat he approaches with an equal measure of reverence and sassiness. We are excited to see this great American classic through his inimitable lens."
"The New Jersey Theatre Alliance is thrilled to see this wonderful collaboration between our member theatre, Two River Theater, and NJPAC," says Executive Director John McEwen. "This event is just one more example of Two River's commitment to finding new and innovative approaches to theater, and we are proud of our partnership with these two organizations, and delighted that The Music Man will be a part of our annual Stages Festival."
The Stages Festivalthe New Jersey Theater Alliance's largest public programtakes place every March and includes discounted and/or free tickets to performances, workshops and events all over New Jersey, with a wide variety of programming for all ages.
Performance Schedule and Ticket Information
Meredith Willson's The Music Man
Book, Music and Lyrics by Meredith Willson
Story by Meredith Willson and Franklin Lacey
Concert Adaptation by Evans Haile
Performances in NJPAC's Victoria Theater take place Friday, March 21 at 8pm; Saturday, March 22 at 3pm and 8pm; Sunday, March 23 at 8pm. Tickets, on sale now, are $59.50 and $69.50 and can be purchased at www.njpac.org , by calling 1-888-GO-NJPAC or by visiting the box office at One Center Street in Downtown Newark. These performances have been made possible in part by funds from the New Jersey State Council on the Arts/Department of State, a Partner Agency of the National Endowment for the Arts, by funds from the National Endowment for the Arts and by Discover Jersey Arts.
Performances in Two River's Rechnitz Theater are Thursday, March 13 at 8pm; Friday, March 14 at 8pm; Saturday, March 15 at 3pm and 8pm; and Sunday, March 16 at 3pm and 7pm. Tickets starting at $20 are available from 732.345.1400 or www.tworivertheater.org . $20 tickets may be partial view.
New Jersey Performing Arts Center (NJPAC), located in downtown Newark, New Jersey, is among the largest performing arts centers in the United States. It is the artistic, cultural, educational and civic center of New Jerseywhere great performances and events enhance and transform lives every day. As New Jersey's Town Square, NJPAC brings diverse communities together, providing access to all and showcasing the State's and the world's best artists, while acting as a leading catalyst in the revitalization of its home city. Through its extensive Arts Education programs, NJPAC is shaping the next generation of artists and arts enthusiasts. NJPAC has attracted over seven million visitors (including more than one million children) since opening its doors in 1997, and nurtures meaningful and lasting relationships with each of its constituents. Visit www.njpac.org or call 1-888-GO-NJPAC for more information.
Two River Theater, under the leadership of Artistic Director John Dias and Managing Director Michael Hurst, is celebrating its 20th Anniversary of creating great American theater by developing and producing new works and world masterpieces. We cultivate an audience that cherishes the intimate joy of theater, enriched when shared by a community of others. Two River Theater supports adventurous theater artists and the development of new work making a sustained investment in the creative process, and cultivates a new generation of theatergoers through arts education programs. Two River Theater is a member of the League of Resident Theaters (LORT), Theatre Communications Group (TCG), the New Jersey Theatre Alliance, and ArtPride New Jersey, and has been designated a "Major Arts Institution" by the New Jersey State Council on the Arts. For more information, visit tworivertheater.org or call 732.345.1400.