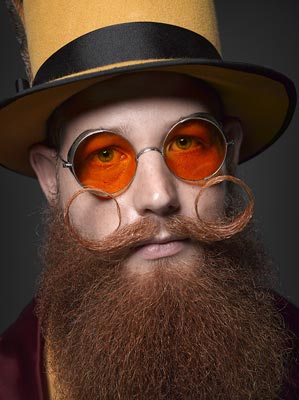 (Morristown, NJ) This November, an exhibition that is sure to "grow" your appreciation of facial hair opens at the Morris Museum. Beards: The Long and Short of It will be on view from November 23, 2013 through March 30, 2014.
Featuring more than 100 objects, Beards: The Long and Short of It will explore men's facial hair trends throughout history. Through artwork and artifacts, this engaging exhibition will take visitors back in time to investigate the tools of the trade and consider the cultural meanings associated with different facial hair trends.
Originated by the Morris Museum, the exhibition will include photographs by contemporary artists Matt Rainwaters and Greg Anderson. Rainwaters, an artist based in Austin, Texas, created portraits of hirsute men during the 2009 World Beard and Moustache Championship. He says of his experience, "there was an odd mixture of competition and camaraderie: these men had grown and cultivated their facial hair to excess for most of their lives and they were fiercely committed to the art of grooming."
Working in a similar fashion, Greg Anderson, a commercial artist based in Las Vegas, captured the portraits of competitors in this year's championship competition. Using a medium-format camera, a few lights and a simple backdrop, he depicted the personalities of these dedicated beard-wearers in technically pristine photos.

Special Program
In association with the exhibition, the Morris Museum is offering special programming for visitors. For more information, please email programs@morrismuseum.org or call 973.371.3706.
Night of Bourbon and Beards
Thursday, February 27 at 6:30pm
$35 in advance / $40 at the door

About the Morris Museum
Celebrating 100 years, the Morris Museum is an award-winning, community-based arts and cultural institution which serves the public through high caliber exhibitions in the arts, sciences and humanities. The Museum also offers educational programs, family events, and is home to the Bickford Theatre and its wide range of performing arts offerings. Continuously serving the public since 1913, the Morris Museum has been designated a Major Arts Institution and has received the New Jersey State Council on the Arts' Citation of Excellence, among other awards. The first museum in New Jersey to be accredited, the Morris Museum was re-accredited in 2013 by the American Alliance of Museums.
The Morris Museum is a Blue Star Museum, offering free admission to active duty military personnel and their families, from Memorial Day to Labor Day.
The Museum is located at 6 Normandy Heights Road (at the corner of Columbia Turnpike) in Morristown, NJ, and is open Tuesday, Wednesday, Thursday, Friday and Saturday, 11:00am to 5:00pm and Sunday, 12:00 to 5:00pm. In addition, the Museum is open evenings from 5:00 to 8:00pm on the second and third Thursday of the month. Admission to the museum is $10 for adults and $7 for children, students and senior citizens. Admission is always free for Museum members. Every second and third Thursday of the month between 4:00 and 8:00pm, the Museum offers visitors the opportunity to Pay What You Wish. For more information, call (973) 971-3700, or visit www.morrismuseum.org .