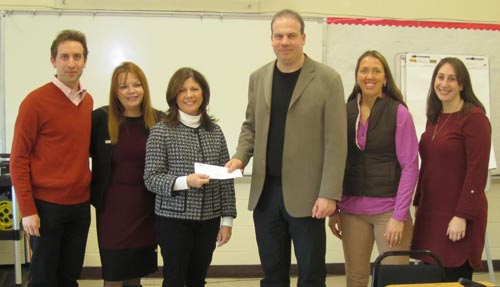 (UNION, NJ) -- Premiere Stages, the professional theatre company in residence at Kean University, is excited to announce two new playwriting residencies in Rahway. Funding from the Northfield Bank Foundation has enabled Premiere Stages to return to Rahway 7th and 8th Grade Academy for an eight week in-school playwriting residency in 2014. The foundation will also fund a second residency with 6th grade students at Rahway's Roosevelt Elementary School.
Premiere Stages residencies are specifically designed to support classroom learning objectives and are designed to support the Common Core Curriculum, reinforcing literacy skills, encouraging creativity and collaboration, and bolstering student self-esteem. Professional teaching artists work closely with classroom teachers to specifically tailor each residency to the needs of the students. The upcoming 7th grade residency will align with the Literary Arts class studying Agatha Christie's masterful whodunit, And Then There Were None, while the 6th grade program at Roosevelt will center on the social studies unit studying Ancient Egypt. Over the course of seven weeks, students will learn the basics of playwriting and collaborate to write original short works for the stage. Both residencies will culminate in late March with an in-school presentation of student-written work by a cast of professional actors.
"We are thrilled that the Northfield Bank Foundation is sponsoring our return to Rahway," said Premiere Stages Producing Associate Clare Drobot. "Increased funding will afford Premiere the opportunity to place teaching artists in multiple schools, expanding the pool of students served through the project."
The residencies are just one facet of Premieres larger educational initiative, known as the Play Factory. Play Factory programming also includes the New Jersey Young Playwrights Festival, a statewide contest in partnership with Playwrights Theatre of New Jersey that showcases the work of New Jersey students ages 8 and up, and the Play Factory Performance Series, an annual summer performance series featuring dynamic, professional theatre presentations designed specifically for young audiences.
Premiere Stages is made possible in part through funding from The New Jersey State Council on the Arts, The Shubert Foundation, The Geraldine R. Dodge Foundation, The Northfield Bank Foundation, The New Jersey Historical Commission, The Provident Bank Foundation, The Hudson City Savings Bank Foundation, Union County HEART Grants, The Hyde and Watson Foundation, The Union Foundation, E.J. Grassmann Trust, The New Jersey Theatre Alliance and through the generous support of individual patrons. Discover Jersey Arts is our marketing partner. Visit www.JerseyArts.com for more information about other arts programming happening around the Garden State.
Premiere Stages offers affordable prices, air-conditioned facilities and free parking close to the theatre. Premiere Stages also provides free or discounted tickets to patrons with disabilities. All Premiere Stages facilities are fully accessible spaces, and companion seating is available for patrons with disabilities. Assistive listening devices and large print programs are available at all times; publications in alternate formats are available with advanced notice. Please call (908) 737-4092 for a list of sign-interpreted, audio-described or open-captioned performances. For more information, visit Premiere Stages online at www.kean.edu/premierestages.