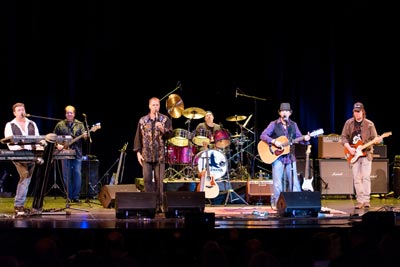 (Newton, NJ) -- In a tribute to the legendary Eagles, EagleMania will perform at the Newton Theatre on Saturday, April 5th, 2014. The music of the Eagles, with the combination of heartfelt ballads, rock anthems and the unmistakable sound of vocal harmonies as only the Eagles can do, has propelled the band for the past four decades, positioning them as one of the most successful and popular bands in music history. And now EagleMania performs all of their hits replicating the Eagles' sound leaving fans with an experience that they do not soon forget.
Their set list consists of the best of the Eagles catalog including such monster hits as The Long Run, Witchy Woman, Take it Easy, Best of My Love, Peaceful Easy Feeling, Tequila Sunrise, Already Gone, Take It To The Limit, One of These Nights, Life in The Fast Lane, Boys of Summer, I Can't Tell You Why, In the City, Heartache Tonight, Dirty Laundry, Desperado, Hotel California, Victim of Love, Lying Eyes, Life's Been Good and many more much-loved songs from one of the greatest rock bands of all time!
Formed in 2010, EagleMania has emerged as a major act throughout the East Coast, performing to sold out audiences everywhere they go. In addition to Eagles hits, they also perform the great songs of Don Henley, Glen Frey, and Joe Walsh. The band consists of an ensemble of veteran musicians whose goal is to faithfully reproduce the Eagle's repertoire, music they love to sing and play, always committed to giving their audience aperfectshow every time they take the stage. People often remark that if they closed their eyes they would think they were listening to the actual Eagles live in concert.
Tickets for Eaglemania are $29.00 for the Orchestra and $24.00 for the Balcony. Tickets for this performance will go on sale on Friday, November 22nd at 11:00 am. Purchase tickets by visiting www.thenewtontheatre.com or contact the Box Office at 973-383-3700.
The historic Newton Theatre, located at 234 Spring Street in Newton, NJ, was founded in 1924. Revitalized and fully renovated, Sussex County's premier entertainment venue reopened in 2011 as a 605 seat capacity live performing arts center. With it's rich history and diverse programming The Newton Theatre is essential to the buoyancy of New Jersey's Skylands region. More information about The Newton Theatre may be found by calling 973-383-3700 or by visiting its website at www.TheNewtonTheatre.com .