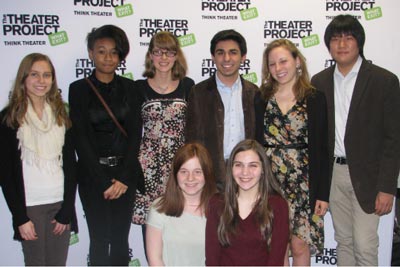 (NEW JERSEY) -- While performing in Cranford and Maplewood, The Theater Project has been encouraging young writers from around the state through its annual Young Playwrights Competition. Past winners have gone on to pursue degrees in theater and playwriting, and they often return to The Theater Project to present prizes and share their journeys with the newest honorees.
And having run the competition successfully for the last dozen years, The Theater Project has decided to reach out to young movie enthusiasts as well in a Young Filmmakers Competition.
The two separate competitions will begin accepting entries in January 2014, and winners will be recognized in ceremonies in March (Young Playwrights) and April (Young Filmmakers).
"In tough economic times, the arts sometimes get short shrift as people struggle to make ends meet and schools see their budgets shrink," says Theater Project producer Daaimah Talley. "But when kids lose out on arts experiences, they miss opportunities to develop critical thinking and reading skills that are needed now more than ever - we want to make sure that kids know how important their creative endeavors are by showcasing them in front of the community." Winners and runners-up will see their work presented to an audience and receive prizes in addition to recognition.
"Putting words and images together in a meaningful way is not only about communication, but also teaches the critical thinking skills so necessary to success in education and the workplace," says Theater Project artistic director Mark Spina.
The competitions were inspired by a generous donation from Linden resident Bill Mesce, Jr., an award-winning playwright and screenwriter, whose recent short story collection, PRECIS, was published by Stephen F. Austin University Press. He is also the author of OVERKILL:THE RISE AND FALL OF THRILLER CINEMA, and writes regularly about film and television for the award-winning website, Sound on Sight. Mesce says of the competition: "It is not only impressive but inspiring to see how young people apply themselves to an art form, given the opportunity."
The Young Playwrights Competition is coordinated by Kevin Carver of Hillsborough; Young Filmmakers by Will Budnikov of Woodbridge. Competition guidelines are available at TheTheaterProject.org .