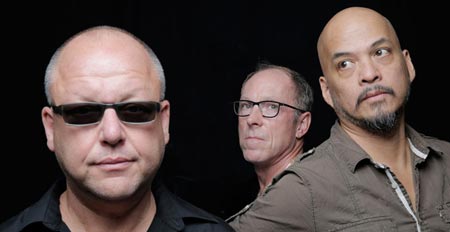 (NEWARK, NJ) -- Fortified with four instantly-sold-out New York City club shows, a sold-out UK/European tour and five brand-new songs, the Pixies announced today that a coast-to-coast North American leg has been added to its 2013-2014 world tour and will stop at New Jersey Performing Arts Center on January 21, 2014 at 7:30pm.
Special guest Fidlar will open.
Pixies Black Francis/guitars, vocals, Joey Santiago/guitars, drummer David Lovering, and touring bassist Kim Shattuck are on the road in support of the band's first collection of new music in more than 20 years that began with the single "Bagboy" on June 28. In less than a month, there were more than one-million downloads/streams of the song and more than one-million YouTube views of the LAMAR+NIK-directed music video. The group followed with the four-track EP-1. "Andro Queen," the melancholy, surrealistic sci-fi ballad that opens EP-1, is the project's brand-new music video, directed by acclaimed filmmaker Ondi Timoner and now available at www.pixiesmusic.com
All of the Pixies dates on this tour will feature a brand new stage set and production, and will give the band an opportunity to not only debut brand new Pixies songs, but to offer the most wide-ranging concert set lists of Pixies music in the band's career.
The Boston-formed Pixies have been acclaimed as the most influential pioneering band of the late 80s alt/rock movement. Their five studio releases and initial six years together effectively blazed the path for groups like Nirvana, Radiohead and Pearl Jam. The Pixies disbanded in 1993 and launched a reunion tour in 2004 that shattered sales records around the world, including 24,000 tickets sold for an unprecedented eight-night, sold-out run at Hammerstein Ballroom. This past September, the band performed four New York and four Los Angeles club shows which, just as in 2004, sold out in minutes.
For more information visit http://www.pixiesmusic.com