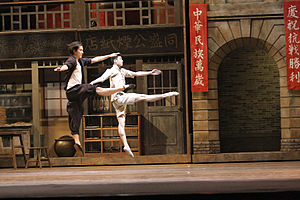 (UNION, NJ) -- Kean Stage opens Wilkins Theatre Season with the Shanghai Ballet on October 18 at 7:30pm. For more than three decades, the Shanghai Ballet has been dazzling international audiences with its unique repertoire of folk-infused Chinese ballet and classical Western masterworks. The Company will perform the "Romeo and Juliet" of Chinese folklorea poignant love story that dates to the Tang Dynasty called The Butterfly Lovers.
The story follows a young couple's ill-fated romance through elegant choreography, splendid costumes, and evocative sets depicting the naturaland supernaturalworlds. These masterfully trained dancers convey the story's bittersweet beauty with expressive hand gestures and theatrical pantomime, evocative complements to their stunning classical technique.
Wilkins Theatre is located on the Kean University main campus at 1000 Morris Avenue in Union, N.J.
Ticket prices are $30 Standard; $20 Senior, Student, Child.
Tickets are available at the Wilkins Theatre Box Office on campus, by calling
908-737-SHOW (7469), and online at www.keanstage.com .