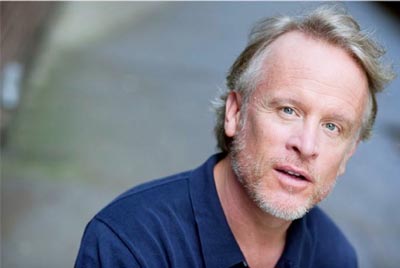 (Cape May, NJ) -- Cape May Stage takes a look back at an era of uncertainty: the Cold War, when profound ideological differences between the United States and the Soviet Union manifested into a landscape of fear and psychological warfare, made possible by the possession of nuclear weapons.
From October 23 to November 16, both sides will have their say at the Robert Shackleton Playhouse with Cape May Stage's production of Lee Blessing's A Walk in the Woods. Two arms deal negotiators one an idealistic American newcomer, the other a cynical Russian veteran meet in the woods after long frustrating hours at the bargaining table in informal conversation, covering a variety of topics. In its depiction of these two men working towards a mutually acceptable deal, this Pulitzer Prize-nominated drama is filled with unexpected humor and extraordinary humanity.
In this absorbing and brilliant debate on the eternal hope and relentless futility of high-stakes politics, the opposing sides are brought to life by two Cape May Stage newcomers. Howard Green has appeared at The New York Shakespeare Festival, The Actor's Studio, and the Lincoln Center Theatre, among others. His adversary, Conan McCarty has appeared on Broadway, Off Broadway, and at Actors Theatre of Louisville.
A talented production team joins this wonderful cast, including Marlena Lustik (A Tuna Christmas, Uncle Vanya) as Director; Lisa Shames, Stage Manager; Shawn Fisher, Set Designer; Cyrus Newitt, Lighting Designer; and Robert J Martin, Costume Designer.
Performance Information

A Walk in the Woods will run from Wednesday, October 23 to Saturday, November 16 at the Robert Shackleton Playhouse located on the corner of Lafayette and Bank Streets in downtown Cape May. Performances are at 7 p.m. on Thursday, Friday and Saturday and at 3 p.m. on Saturday and Sunday. Tickets are $35 for adults, $30 seniors (62+) and $15 students. A half-price preview performance will take place Wednesday, October 23 at 7:00 p.m. followed by the official opening night on Thursday, October 24. A special half-price senior matinee will take place on Sunday, November 3 and on Wednesday, November 6 will be a special $25 anniversary matinee at 3:00 p.m. For more information and ticket reservations call the box office at (609) 770-8311, or visit the theatre's website www.capemaystage.org .
A Walk in the Woods is presented through the gracious support of Tisha's. This season's sponsors include 410 Bank Street, Frescos, Cape May Winery, CapeSCape, Corner Cottage Apartments, Exit Zero, Harry's Ocean Bar & Grill at The Montreal Inn, The Washington Inn, and Lucky Bones.