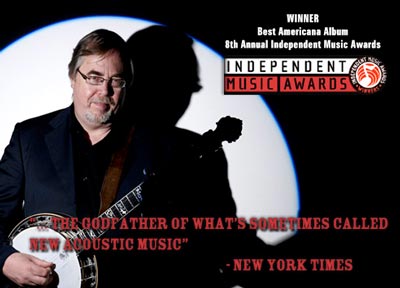 (Rutherford, NJ) -- A stellar cast of musicians including Grammy Nominee, multi IBMA (International Bluegrass Music Association) award winner Tony Trischka, finger style guitar virtuoso Toby Walker, JAM (Jersey Acoustic Music) award winner for "Top Female Songwriter of the Year" Loretta Hagen and more are coming together to help raise funds for the medical needs of Baby Logan.
Logan was born ten weeks early with EA "Esophogeal Atresia," which has caused a series of complications ranging from life threatening to severe chronic lung disease. The Love For Logan Benefit Concert will be held Sunday, October 27, at the Rutherford Congregational Church, 251 Union Avenue, Rutherford, NJ with concert beginning at 5:30pm.
"Logan has two rare congenital disorders, the most critical of which is called an "Esophageal Atresia" or "EA". A series of surgeries and a need to constantly maintain and protect Logan's ability to breath has kept Logan and his parents Dave and Lisa Meredith of Wood-Ridge, NJ stranded in the NICU (neonatal intensive care unit) at CHOP (Children's Hospital of Philadelphia) for the past 11 months and counting.
After five months, when Logan was large enough, surgeons pulled the esophagus together and attached the two ends. The connection was tight and never really healed like it should, causing a stricturing (closing) of the repair site. This causes several complications, which include a pooling of secretions that spill into his airway and lungs. He literally is drowning on his own saliva.
Since the surgery they have been performing weekly dilation procedures that stretch open the site with hopes that it will eventually remain open enough to allow swallowing and as normal a function as possible. This plan has, unfortunately, not been working out and the surgeons are now planning a change of course. One primary option is to redo the entire operation once he is bigger with more healthy esophageal tissue to work with. Most children with this condition are home within weeks. That's what Dave and Lisa expected when this started 11 months ago, but life had other plans. Now, livelihoods on hold, they are with Logan constantly in the NICU, as his daily struggle continues. And as much as he struggles, Logan still has no shortage of smiles!"
This special event will feature performances by the some of NJ's best musicians who graciously stepped forward to help Logan.
Grammy nominee and multi IBMA award winner Tony Trischka, is perhaps one of the most influential banjo players in the roots music world, and for more than 35 years has inspired a whole generation of bluegrass and acoustic musicians. The New York Times calls Tony Trischka "the Godfather of new acoustic music."
Internationally and nationally acclaimed Toby Walker has been hailed as a roots music finger-style guitar virtuoso while the London Sunday Times calls him "an acoustic gem."
Loretta Hagen JAM (Jersey Acoustic Music) award winner for Top Female Songwriter of the Year delivers rich alto vocals, award winning lyrics and tightly woven harmonies. Her current album "Mud and Stone" remained #1 for NJ on the Roots Music Report. WFUV's John Platt says "Loretta Hagen writes songs that sound like they can come from the Heartland, but they also really come from the heart." Loretta is Logan's Aunt and one of the organizers of the concert, saying, "It is so amazing and beautiful how people reach out to help in any way they can when there is a need. I'm so grateful for the generosity of friends and family, even those who don't know Logan but have heard of his struggles who want to help. When asked to perform at the show, these wonderful artists responded with "absolutely, just tell us when and where!"
Performances will also include Dogs Like Us an "almost" acoustic string band with Joe Rosolyn, lifelong friend of Logan's parents, Wood-Ridge natives Dave and Lisa Meredith. Kyle Hancharick a young, up and coming gifted singer-songwriter from West Milford and John Dull who has been a contributing member to the folk music community for 30+ years will also appear. Dull, well known in the Rutherford community, has worked and performed with many of the prime mentors of the folk genre, including Pete Seeger.
The night is sponsored by businesses from all over the country including RE/MAX Whitehouse, Boiling Springs Bank, Listen Live! Music, Bearfort Recording and Sound, c3 Premedia, Trespass Music and emceed by "Joltin" Joe Pszonek host of Radio Nowhere at WMSC in Montclair and Michelle Fortier. Doors will open at 4:30pm, and concert will begin at 5:30pm. Tickets, which includes the concert, appetizers, light fare and non alcoholic beverages are $25 per person and can be purchased at Steve's Stamp and Coin, 2 Franklin Place, Rutherford, or online at www.lorettahagen.com/benefit and at the door at Rutherford Congregational Church the evening of the concert. For donation and sponsor information please visit www.lorettahagen.com/benefit or contact michelle@trespassmusic.org