By Rich and Laura Lynch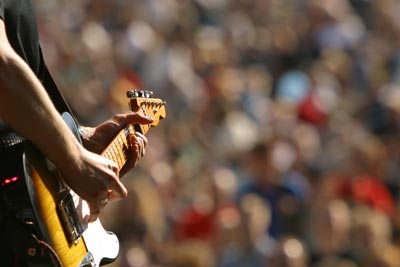 This month our sack has been abundantly filled with some sweet and spooky tunes. We've sorted through the lot and this is the best of the best -- no candy corn filler here!
It may be a trick to Ritchie Blackmore fans that the guitarist still prefers to play folk rather than hard rock but for followers of the band Blackmore's Night a new record is a treat. As with previous albums All Our Yesterdays transcends time by blending traditional minstrel music from different European countries with contemporary elements amid rock riffs. Candice Night has an ethereal vocal delivery well suited for the fantasy realm that the two have conjured up through their image heavy music. The opening title track reflects their signature style in a reminiscing tale of romance that flows into the animated "Allan Yn N Fan". In contrast "Darker Shade Of Black" is heavier as an old church choir encounters contemporary drums and guitars. On All Our Yesterdays Blackmore's Night magically melds medieval and modern sounds in a dozen enchanting songs that echo of simpler times...
It may take you a few moments to recognize the classic rock songs hidden behind a stylized mask but that's what makes Spirit of '67 interesting. Vanilla Fudge is recognized for revising popular tunes. This time they picked ten tracks from the influential year of 1967 plus one original - "Let's Pray for Peace" that thematically suits the times. On this album Vanilla Fudge changes the speeds and structures of well known songs, often giving them a heavier sound as in the case of "Gimme Some Lovin '" and "For What It's Worth". Guitarist Vince Martell sums it up stating that "Spirit of '67 is the continuation of the journey we began in the Summer of Love - psychedelic, rhythmically powerful arrangements of happening tunes of that era, colored by the insight and vision of who we are today." Spirit of '67 is hippy garb with a hard rock edge...
Better Late Than Never from the Anderson Ponty Band is as pleasurable as going through one's Halloween loot. Jon Anderson known as the voice of Yes and violin extraordinaire Jean Luc Ponty are supported by a world class group of musicians. Jon and Jean Luc share a sack full of sounds and styles in songs that were recorded live then enhanced with additional production. The result is a tasty mix of re-dressed fan favorites such as "Time and a Word" now heavily draped in reggae rhythms and vibrant violin stanzas from Ponty. "And You and I" wears its familiar song structure punctuated with colorful piano parts that give the piece a different flavor as does a jazzy re-branding of "Roundabout". The magical "Infinite Mirage" is a new track incorporating Ponty's classic tune "Mirage" with Jon's distinctive vocals. Like a bag full of Halloween candy Better Late Than Never is full of surprises and sweets...
With a name like Blackie Lawless there may not be a more frightening frontman in rock and with their latest release Golgatha W.A.S.P. seem intent on trying to scare the skull right out of you. The album opens with a shocking and rocking "Scream" that sets the pace for this powerfully produced platter. "Shotgun" is a blast while "Miss You" is a monumental ballad with both showcasing a loud and lively Lawless. Overall, the album is explosive, theatrical and hard rocking throughout. The title track finds the band rising to the occasion on a song centered around the hill where Christ was crucified. To be honest, for whatever reason we never followed this outfit's career back in the day. But, once the anthemic songs on this disc got into our heads we were in for a nice sonic surprise and we're now believers. Time to check the back catalogue...
Metal Allegiance is a dynamic and demonic assembly of players who have taken a blistering "Pledge of Allegiance" to music and their self-titled debut features an illustrious list of performers from the hard rock and metal realms. The ensemble is anchored by legends of the genre - Alex Skolnick on guitars; David Ellefson on bass; and Mike Portnoy on drums. They are joined by a caustic cast of characters. The result is a scary good collection of harrowing riffs and rhythms with occasional melodic or thrash moments. "Let Darkness Fall" features Troy Sanders of Mastodon up front and the result is a torrid track that is wild yet worldly. "Dying Song" is powered by Pantera's Philip Anselmo and "Wait Until Tomorrow" features King's X frontman dUg Pinnick. Both are raw and riveting while full of complex changes. "Triangulum" is an intense multi-part instrumental suite clocking in at over seven minutes. The CD closes with an All-Star tribute to the late great iconic rock god Ronnie James Dio. On "We Rock" the Metal Allegiance accomplish exactly what they pledged to do. That is, they have delivered a dramatic and diverse album dedicated to the darker side of rock...
The Winery Dogs were many critics' favorite new band when their debut dropped in 2013. Now, they continue that Hot Streak and avoid the sophomore jinx with some high-powered hijinks courtesy of the talented threesome consisting of Richie Kotzen, Billy Sheehan and Mike Portnoy. The tantalizing trio return with an album full of bark and a new bite that rocks hard with only a melodic pause or two along the way. On the title track the band funks up their approach just a bit while "Fire" slowly smolders. Both these tracks point to The Winery Dogs as a band who are willing to evolve beyond their successful formula. The rest of the album is a blistering showcase of these musical masters and their exceptional skills. On "Captain Love" we find Kotzen in the clutches of love and lust while "Empire" rises on a strong foundation from the renowned rhythm section. The Winery Dogs are clearly on a hot streak and if they keep putting out albums as strong as this one is that run of good fortune should continue unabated...
Marco Benevento is a charismatic, compelling and generous performer known mostly for his work in the modern jam scene. Earlier in the year he played at the Signal Kitchen in Burlington, Vermont and now he's made that show available for free to his fans as the bootleg style release, Masquerade Ball. Marco dresses up many of his favorites with the help of bassist Dave Dreiwitz and drummer Andy Borger. For years Benevento remained ghost-like (as in not really seen or heard) as a vocalist; but with the release of his last studio recording Swift his singing talents were revealed. In this live concert, with seven months of touring under their belts, you can hear that Marco has gained the confidence and presence to move forward with another skill in his toolkit. Throughout, Benevento's amped up approach to his keyboard remains captivating and mysterious. Standout tracks include "Witches Of Ulster", "Limbs Of A Pine" and "Atari" all proving that Marco Benevento has got game and his concerts are always a ball...
EVEN MORE NOTABLE RELEASES!
Blonde Summer hails from L.A. and artistically they are somewhere in between artists like Tame Impala, Modest Mouse, and more electronic acts like MGMT. Their latest EP, Paradise, joins the collection of sun soaked tunes for which the group is known. Introducing more keyboards and beats it's like a fantastical version of the band's previous self. The five songs weave the listener through Los Angeles pavement, beach sands, and the 420 smoke of songs like "Blazed." Blonde Summer lets us know exactly what Paradise is to them... Alternative electronic acoustic lo-fi indie pop songwriter Alex Riggen from Illinois is prepping Safflower - his fourth solo album for release this Fall. The album's nine tracks were completed one at a time and released on the Internet each month since January. With this release the artist has given birth to a project that is both experimental and extraordinary in its approach... Donivan Berube from Blessed Feathers has quite the story. The month after he turned 17, he left home and disassociated himself from the church of Jehovah's Witnesses, which meant saying goodbye to his entire family and all of his friends forever. Then he took off with his dream girl (now wife) to travel the continent and live out of a tent. All of that life experience finds it way to his new album There Will Be No Sad Tomorrow. The result is a compelling and rootsy tale that is one part traveling music and one part biography that is a blessing to our ears and a testament to the triumph of one man's human spirit... See ya next month!
---
Richard J. Lynch and Laura Turner Lynch are the founders of SoundPress.net, an Internet-based music industry magazine and review site, online since 1999. Laura is a published author of the inspirational Positive Power Secrets From A to Z ( www.positivepowersecrets.net ). Rich regularly interviews famous rock stars for the site's radio show and he has recently launched his own recording career at ( www.richlynchband.com ).