By Danny Coleman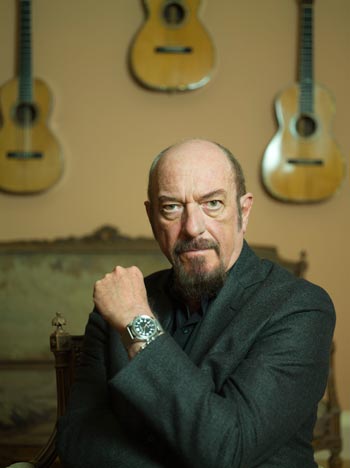 "Our agent at the time was a history graduate, we were dithering about searching for band names and he suggested it and I was sort of like; yeah, well, OK. Then it dawned on me; we're named after a dead guy," explained founding member and music icon Ian Anderson with a laugh on how legendary rock band Jethro Tull got their name from an English agricultural pioneer that helped bring about the British Agricultural Revolution. "So let that be a lesson to you children; pay attention in history class!"
The year was 1968 and Jethro Tull was on itsway to becoming an emerging force to be reckoned with in what was becoming the post Beatles era of rock music. Album oriented rock and roll had begun to dominate radio airwaves and harder, more heavy concept records were lining record store shelves. Every band was unique in its own way; from the album packaging and art to on and off stage gimmicks or antics. Music was changing and Jethro Tull was an integral part of it.
Anderson, the front man and face of the band is widely credited with introducing the flute into rock music. Helping to launch an entire trend into the genre, Anderson blazed a trail with his use of this wind instrument. Now more than four decades later, 30 studio and live albums and more than 60 million records sold worldwide, Anderson is bringing his first "quasi rock opera" to the masses. Tickets are now on sale for "Jethro Tull, The Rock Opera," which premieres at the Chicago Theater in Chicago,IL on November 1 and ends in Newark, NJ on November 11 at the New Jersey Performing Arts Center (NJPAC).
"All these years later, I wanted to find something about him. I discovered that whether by fate or accident, many songs that I've written coincide with his life or career. I didn't know at the time I wrote it that a song such as 'Aqualung' could actually relate to his bronchial disorder but it is all quite similar and there are quite a few of the songs that are like this. So I assembled them all together into this sort of an opera style show," explained Anderson.
The rock opera named after Jethro Tull reimagines the man in the near future with the story illustrated via songs from the band's repertoire.
"Heavy Horses," "Farm On The Freeway," "Songs From The Wood," "Aqualung," "Living In The Past," "Wind-Up," "A New Day Yesterday," "The Witch's Promise," "Locomotive Breath" and many other classic songs from the Tull collection will be part of this undertaking; some modified a bit to "fit the bill," he explained. "What I did was bring them up to speed to reflect a modern day chemist who is trying to feed the planet; a very hungry planet. Other than obvious cosmetic changes and a few pronoun changes; I've done very little in the way of changing the material. Those who come to the show are going to hear approximately 20 songs from the best of the Jethro Tull repertoire and they'll all be relevant to the show and what I am trying to do; so obviously there will be no 'Bungle In the Jungle,' Anderson said with a slight laugh.
Also included in this presentation will be some new material and some "virtual guests" as well. "I'm using the original lyrics for the most part and incorporating them in a theatrical, multi-media event. The virtual guests will be on a large screen and will interject at precise moments to help tell the story."
This series of eight shows in November are just the start of something much bigger to prepare the band for touring in 2016. "We are scheduling more in 2016 after Easter. In September we will take it to the west coast of the U.S. and shows in Europe as well."
Anderson once said, "A band to me is whomever is in the room at the time." Well, this tour features a new band, a new show and a few history lessons as well and tickets are on sale now.
---
Jethro Tull with Ian Anderson
Wed, November 11 at 7:30pm
New Jersey Performing Arts Center
1 Center Street, Newark, NJ