By Lisa Iannucci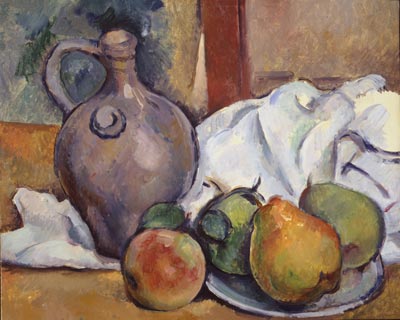 While the relocation of the renowned Barnes Foundation from its home in Merion, Pa. to Central Philadelphia in 2012 may, for some, still be controversial, the treasures within its walls most certainly are not. The Barnes is home to the one of the largest single collections of works by the great Pierre-Auguste Renoir, stunning Matisse murals, and one of the world's most important assemblages of the great Post-Impressionist Paul Cézanne, and a visit to the singular collection amassed by Albert C. Barnes is both an educational experience and a sensory delight.
The recently-opened exhibit titled "The World is an Apple: The Still Lifes of Paul Cézanne," is a special collection of works representing the artist's experimentation with the use of varied and multiple perspective within the still life genre. "I want to astonish Paris with an apple," he famously declared, and this quotation at the entrance to the exhibit sets the stage for a small but carefully constructed collection of 23 works that span the artist's career. Cézanne is considered to be the bridge between impressionism and modernism, and was a key influence on the work of avant-garde artists like Picasso and Matisse. This exhibit of his still life work illustrates his movement from impressionism to a more modernist use of color to flatten shapes and alter perspective by focusing upon key thematic elements: apples, a vase, a tablecloth or drape. Foreground and background begin to advance and recede in the viewer's eye; three-dimensional effects become one-dimensional, setting the stage for abstraction and cubism of Cézanne's successors.
In amassing and arranging his vast collection, Barnes' emphasis on visual instruction and thematic appeal over formal presentation of the works resulted in installations that mix genre, form, period, size and shape; each wall is its own collection within the collection, and includes not just paintings, but furniture, sculpture, pottery and metalwork. These visual statements are designed to encourage visitors to see patterns of shape, theme and color, to recognize how seemingly unrelated works can gain meaning and coherence when presented as a group. Newcomers to the Barnes Foundation may find the collection overwhelming, however, especially given its unique presentation of the works. The limited size and scope of this exhibit is an excellent format within which to learn how to approach individual works; on their own or with the help of a docent, visitors learn to see details like changes in brush technique, color mapping, and perspective, to recognize theme and composition, all skills that serve to greatly enhance their experience of the Barnes collection and its dense, diverse installations.
Visitors both to the Cézanne exhibit and the main collection have the option of a docent-led tour, which is well worth the extra money; docents are well-schooled not just in the ins and outs of the Foundation, but on the lives of the artists and in general art history. Visitors may also use an audio tour guide, but it only covers selected works, and can be distracting. A morning visit is best, as space is limited and the building tends to fill up later in the day. The complex boasts both a full service restaurant and a café, but there are several restaurant options in the neighborhood as well as a Whole Foods with outdoor seating area for dining al fresco. There is also a small bookstore/gift shop featuring items related to the collection and exhibit.
The Barnes Foundation's permanent art collection contains 69 works by Cézanne, and related programming and lectures are scheduled throughout the duration of the exhibit; see website for details. The Foundation is located at 2025 Benjamin Franklin Parkway, Philadelphia, about one hour and 20 minutes from the Monmouth County area. Building hours are 10 a.m. to 6 p.m. Sundays through Thursdays, until 9 p.m. Fridays, until 8 p.m. Saturdays. Hours change in September. Admission to the collections and exhibition is $29, $27 for seniors, $15 for youths/students, $14 for Cézanne-exhibit-only tickets, free for members. Tickets are available onsite, but advance purchase by phone or online is recommended. Call (215) 278-7200 for information, or visit
http://www.barnesfoundation.org
or on
Facebook
.
Photograph © 2012 The Barnes Foundation

Paul Cézanne, Pitcher and Plate with Pears (Pichet et assiette de poires), 1895–98, oil on canvas, 19 5⁄16 × 23 3⁄16 in. (49 × 59 cm), Private Collection (Courtesy Nancy Whyte Fine Arts, Inc)