By Rich and Laura Lynch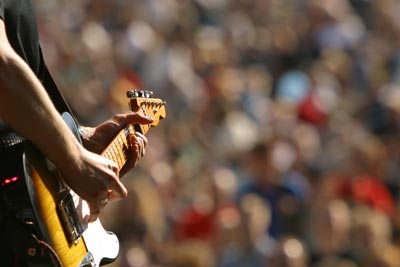 They say that "April showers bring May flowers" and the offices of SoundPress.net have been showered with an abundance of music this month. Springing forth from our speakers is a colorful and eclectic array of sounds from heavy rockers, jam band favorites, living legends and disco darlings!
KC and the Sunshine Band's on-going goal has been "to create instant happiness through music." The group rose to superstardom in the 1970's with their innovative blend of Caribbean, dance, pop and R&B. Hits such as "Get Down Tonight" and "Shake Your Booty" ruled the airwaves. Today, KC and The Sunshine Band are paying tribute to the music of the 1960's, which had a big influence in shaping their goal. KC wanted to create up-beat music to help people forget about the personal and political turmoil that they were facing. Since the world still needs that ray of hope KC and The Sunshine Band has released Feeling You! The 60's. A combination of up-tempo grooves with plenty of harmonies and horns shine new light on seventeen 1960's classics.
KC adds a warm touch to timeless tunes such as Bob Dylan's "Blowin' In The Wind." The Sunshine Band gives it a different mood with horns and heavier rhythms, yet Dylan's message is still relevant. The Kinks' "You Really Got Me," once a guitar driven song, is now funkier. Joni Mitchell's "Both Sides Now" is closer to its original form whereas KC and The Sunshine Band put their own unique spin on the majority of the other songs including a standout "Stand By Me". Feeling You! The 60's is a danceable feel good record that should make your day brighter.

Although Swift was released in 2014 it may be a new discovery for folks. Keyboardist Marco Benevento is well respected for combining his skills on the ivories with his innovative use of drum machines, pedals, sequencers and toys. Swift, Benevento's fifth album, is different from his previous, mostly instrumental efforts as Marco steps into the role of vocalist. The CD was produced by Richard Swift after whom the record was named. Richard gives this nine track album a unique feel allowing Marco additional freedom to focus on the creative rather than the production process.
The feisty, shorter songs on Swift could easily entice music fans in the EDM and jam worlds. Andy Borger (bass) and Dave Dreiwitz (drums) craft robust rhythms that range from snappy to sturdy in animated arrangements where the piano plays a prominent role. The opening tune "At The Show" is a gathering of good up-tempo grooves backed by a big bottom that is an attention grabber. The edgy "Eye To Eye" engages the listener with its plodding beats that punctuate pondering lyrics. "Coyote Hearing" howls on heavy rhythms paired with cool keyboards parts. The CD closes with the lively "Free Us All." Swift is a fast fun album from Marco Benevento who continues to grow as an artist.
Master shredder Michael Schenker and his Temple of Rock have released the spirited Spirit On A Mission that is a high-powered collection of all-new material. Schenker, who is best known for his work in the Scorpions, UFO, and MSG, has a particularly flavorful band this time around that features the former Scorpions rhythm section of drummer Herman Rarebell and bassist Francis Buchholz. On vocals is the ex-Rainbow powerhouse Doogie White and Wayne Findlay rounds things out on guitar and keyboards.
To ensure that Spirit On A Mission would see the light of day the band had to double down to bring the project to fruition. That's because during the recording of the new album thieves on a malevolent mission of their own, broke into Kidroom Studios in Greven and made off with several guitars and the computers that contained all the work the band had processed up to that point.
"Yes, we got robbed and got very upset about it," recalls Schenker. "Fortunately, it was just performances and not compositions. We caught up and performed the music better than before. It forced us to work extra hard and longer but it made it stronger."
The powerful platter opens with "Live & Let Live" that sets the hard rockin' tone for the rest of the album. "Vigilante Man" soars on White's expressive and explosive vocals and an energizing and awe-inspiring lick from Schenker. "Savior Machine" is a satisfying and crushing crucible reminiscent of classic-era Ozzy with a lyrical nod to the unlikely source of soft-rocker James Taylor before Schenker hammers the whole thing home again with his piercing set of solos. Get ready to bow down at the Temple of Rock because Spirit On A Mission is worthy.
Motor Sister is a super group consisting of Jim Wilson, Scott Ian, Pearl Aday, Joey Vera & John Tempesta, paying tribute to the band Mother Superior. It started with Anthrax's Scott Ian (guitarist) assembling a jam session for his 50th birthday party performing the music of Mother Superior. They hit it on all cylinders and with the support of Metal Blade Records; Motor Sister released an album capturing the energy and enthusiasm of the group. Both bands were inspired by classic rockers such as Cream, Kiss and UFO.
Motor Sister's Ride is a fast, free styling CD. The 12 tracks featured were recorded basically live in the studio over the course of a few days. Ride kicks into high gear with the aggressive opener "A Hole". "Beg Borrow Steal" is a prime example of Motor Sister's hard rocking, heavy hook sound that drives much of the album. "Get That Girl" is another attention grabber with its catchy refrain paired with dueling guitar riffs. This high octane CD closes with the dramatic "Devil Wind."
"It would be great to keep this thing going," Jim Wilson founder of Mother Superior concluded. "I enjoyed playing these songs with Motor Sister more than I've ever enjoyed them before. Scott's like a brother, John Tempesta is such a monster drummer, Joey is incredible and Pearl's harmonies and background vocals are amazing. This feels like a continuation of trip I started long ago and it's a real blessing."
Classic rock legend Todd Rundgren has been at times called "God" by his most ardent adherents and he's now taking his musical gospel Global to the masses with his second consecutive EDM-based effort. After getting his feet wet in the genre with 2013's State, Rundgren returns with a more balanced offering that incorporates many of the doctrinal elements that converted hordes of disciples over the course of his multi-decade career.
Global is an extremely satisfying blend of the blue-eyed soul, rock and singer-songwriter stylings of the man known as a wizard and true star combined with his latest interests in the electronic dance scene that should get the feet moving the world over.
Tying the whole project together is a new message from the much beloved musical messiah -- that we must be much better stewards on this planet while adopting a deeper appreciation for our fellow man if we expect to get anywhere in this world.
Case in point are songs like "Rise" when Todd sings "if we don't rise then we will fall" over a hypnotic trance base while firmly warning that "time keeps ticking away." On "Blind" Rundgren sees a world full of myopic media-types and leaders who fail to acknowledge the myriad of problems we face as a people because they choose to ignore the "writing on the wall". He points out that we have overcome in the past by giving a shout-out to Rosa Parks and others who have proven our potential to put things on a more positive path while telling the rest of us to get "out there and heal the world" on "Earth Mother." And he offers an acknowledgement for those that may be hurting or down and out on "Soothe." On his 25th solo album, Todd Rundgren has risen to the occasion and has given us reason to have hope in these hard times - and that's a cause for celebration - or at least a Global dance party.
EVEN MORE NOTABLE RELEASES! The Furious Seasons' 4th release My Love is Strong reflects classic pop and rock influences in broad strokes of sound. There are horns, slide, and stringed instruments woven into stories often supported by lush harmonies as found on "Understood" a melodic murder ballad featuring a 10-person chorus... Blues Traveler's Blow Up the Moon showcases 14 creative collaborations. Stylistically, songs run the range from country, hip-hop, pop, reggae and rock with that signature harmonic woven into the music. We particularly liked the island flavored "Castaway" and the beguiling vocal blends on "Hearts Are Still Awake" featuring Jewel... Dwayna Litz is a collaborator, singer and songwriter. Her music reflects both classic and contemporary elements of bluegrass, country and rock. I'm The Girl I Used To Know Again is her latest CD. "Yes I Would" reveals that Litz is a fine storyteller and vocalist. This opening song sets the tone for the next nine tracks that features an array of instruments to complement Dwayna's expressive vocals. The CD closes with a glowing rendition of "This Train Is Bound For Glory." See ya next month!
---
Richard J. Lynch and Laura Turner Lynch are the founders of SoundPress.net, an Internet-based music industry magazine and review site, online since 1999. Laura is a published author of the inspirational Positive Power Secrets From A to Z ( www.positivepowersecrets.net ). Rich regularly interviews famous rock stars for the site's radio show and he has recently launched his own recording career at ( www.richlynchband.com ).
---
originally published: 2015-04-20 11:16:51