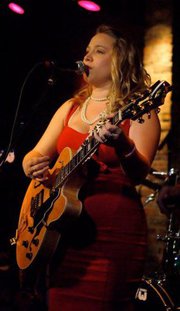 For the third consecutive year Banding Together: A Benefit For The Spondylitis Association of America will air on internet radio stations BlowupRadio.com and ThePenguinRocks.com.
During the weekend of October 15th through 17th Banding Together will broadcast over 50 concert performances to help raise awareness and money for this good cause. Artists include some of the best up-and-coming artists as well as nationally known artists.
"The webathon will be the internet radio equivalent of the Jerry Lewis telethon, only with better music," says Lazlo, the founder of BlowUpRadio.com and the organizer of Banding Together.
During the course of Banding Together, listeners will be encouraged to donate money via a secure on-line section of the Spondylitis Association Of America's website. Everybody donating during the webathon will receive a free digital download of the box set, "BlowUpRadio.com - the First Ten Years 2000-2010", as a thank you gift. The collection features over 6 hours of music, with over 100 songs from New Jersey bands that BlowUpRadio.com has played since it's inception in late 2000. A complete track listing is available at
http://www.BlowupRadio.com
Artists scheduled to perform during Banding Together include:
Analogue Transit, Bastards Of Melody, Bern & The Brights, Brett Fuentes, Brett Harris, Christian Beach, Colie Brice, Copesetic, Drew & The Medicinal Pen, Eryn Shewell, Fairmont, Greg D, Harvey Brice, J Orellana, Jeannie O'Neill & Thomas Martin, Jim Testa, Joe Canzano, John Raido, Jon Caspi, Jonathan Andrew, Keith Monacchio, Little Dipper, Logs In The Mainstream, Mark Parker, Matt Colligan, Matt Wade, Megaphone, Michael Scotto, Mike Ferraro, Mike Grau, New Day Dawn, Paul Rosevear, Pete Jager, Red Flag Fleet, Rik Mercaldi, Scott Lurker, Scruff, The Accelerators, The Amboys, The Break Evens, The Crayons, The Femurs, The Raving Knaves, The Successful Failures, The Wag, The Winter Sounds, Tony Tedesco, Zigman Bird...with more to be announced shortly, as well as re-airing some popular performances from previous years.
The Spondylitis Association Of America (SAA) is a non-profit organization that was the first and remains the largest resource for people affected by spondylitis. Through their efforts, they help advance education, research and treatment for ankylosing spondylitis (AS) and related diseases. More than 50,000 people per month visit SAA's interactive website to access over 1600 pages of up-to-date content for information and support. For more than 25 years SAA has dedicated all of its resources to help improve the lives of people coping with spondylitis.
"This is a very personal benefit for me as my wife, Naomi, suffers from ankylosing spondylitis (AS)", says Lazlo, "I have seen the debilitating effects of this disease and the chronic pain and discomfort it causes. This benefit is the least I can do to help my wife, and over a million others who suffer from AS."
The benefit runs Friday night October 15th through Sunday night October 17th. It will be broadcast on http://www.BlowupRadio.com and http://www.ThePenguinRocks.com
The complete schedule will be announced in early October.
For more information go to http://www.BlowupRadio.com